Beauty and skincare
Vanity Wagon launches pop-up store at Erante Mall in Chandigarh to expand its offline presence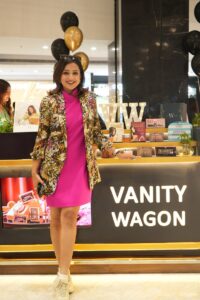 Chandigarh, India – April 2023 – Vanity Wagon, India's first and largest clean beauty marketplace, has launched its third offline pop-up store at Elante Mall in Chandigarh. Kiosks feature an impressive line-up of top beauty and wellness brands including Power Gummies, Love Earth, Typsy Beauty and Riyo Herbs. Popular influencers renowned for their expertise in beauty and wellness attended the launch, making it a must-see destination for all beauty and skincare enthusiasts.
The launch at Chandigarh's Erante Mall marks another milestone for Vanity Wagon as it is the first kiosk to be launched outside Delhi NCR. The kiosk features an array of premium clean beauty brands, allowing customers to experience and purchase products. The brand on display is known for its commitment to non-toxic, cruelty-free beauty, in line with Vanity's Wagon values ​​of transparency and authenticity.
Vanity Wagon co-founder and CEO Prateek Ruhail said: This launch will help customers explore and experience the best of clean beauty from name brands and help educate more customers about sustainable and clean beauty. "
Vanity Wagon is a pioneer in the clean beauty movement and is on a mission to make safe, non-toxic beauty products easily accessible to everyone. Vanity Wagon is an online platform that has established itself as a trusted source for clean beauty, offering a wide range of natural and sustainable products for skin, hair, personal care and more.
At Vanity Wagon pop-up stores, customers can expect a seamless and enjoyable shopping experience with expert guidance from knowledgeable staff. Don't miss this exciting opportunity to explore the world of clean beauty at the vanity wagon kiosk.
Source link