Online education
First non-university Women's Education Committee meeting held at JU
First non-university Women's Education Committee meeting held at JU
The Board's Mission is to Empower Women/Girls in the Community – Professor Umesh Rai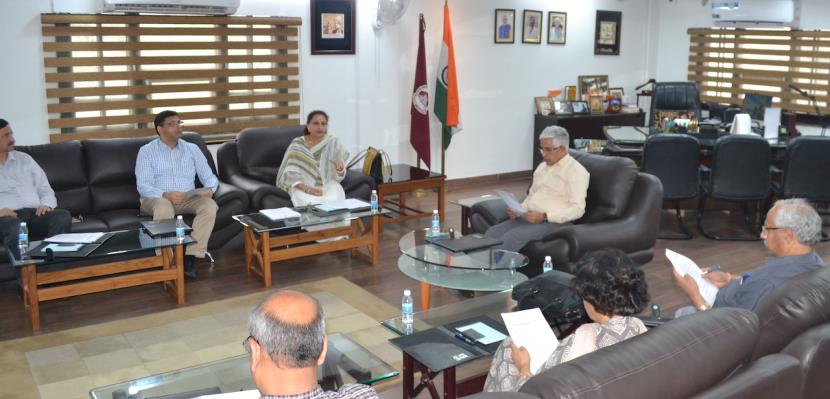 May 25, 2023
Jammu: Professor Umesh Rai, Vice Chancellor of Jammu University, today chaired the first meeting of the Committee for Non-University Women's Education DD&OE.
Professor Umesh Rai, speaking on the occasion, congratulated Professor Neil Rometra, Director of Distance and Online Education, for setting up the Board in record time and taking the initiative to make it work.
She added that the purpose of the board is to empower girls and women in the region. Girls and women who are unable to attend university or higher education due to unavoidable circumstances on a daily basis shall be able to enroll in courses that will lead to their own empowerment. Classes are held on weekends, Saturdays and Sundays, so they can get a taste of the campus atmosphere.
He also said the focus would be on courses that ensure employability and self-employment.
The Vice-Chancellor emphasized that the analysis will be done by the Directorate General, which will give direction to the design of various courses for women in the region who wish to take courses on weekends.
At the meeting, it was decided to start with themes such as financial literacy, English proficiency, computer literacy, tourism, housework, tailoring, beauty and health, cooking and baking.
Prior to this, Professor Neil Rometra, Director General of Distance and Online Education, presented the agenda items for the meeting which were thoroughly considered to set the course of action and implementation.
Professor Rometera said the Board responds to the empowerment of women and provides a platform to empower those who have been denied access to training and education for reasons and circumstances beyond their control.
It is appropriate to mention here that the Board functions under the policy of the Directorate General of Distance and Online Education, Jammu University. It was also decided to establish a dedicated helpline facility for the Board to subsequently address questions raised by each candidate.
On this occasion, Professor Madan Mohan Chaturvedi, former Director of the Cluster Innovation Council and Center for Science Education and Communication, New Delhi, and the Vice Chancellor Candidate of the Board of Trustees, are empowering women in the region through the course. proposed to evaluate areas where And skill training for life.
As an outreach activity, the Commission will encourage the non-university Women's Education Board to set up centers in various locations in the Jammu region and work with various government/business associations to reach out to girls in remote rural areas of the Jammu region. and decided to connect with women. region.
In addition, Dean of Faculty of Letters, Professor Suchita Patania, Dean of Mathematical Sciences, Professor of Indian Institute of Technology Mumbai, Professor Rahul Gupta, Professor Dinesh Singh, and Mr. Sunit Kumar, GM, MD Candidate of J&K Bank, attended the meeting as directors bottom.member