Introduction of new ASI Lake Union leadership
ASI Lake Union Spring Fellowships to be held April 28-29 at Tinley Park Convention Center, Illinois, with the theme "Sharpening the Wedges: Prosperity in a Post-Pandemic World, Guilt-Free Self-Care and More" was done. The keynote speaker was Dr. Neil Nedley, and the seminar presenters were Ms. Maydis Skeet and others.
More than $15,000 was raised across three major ministries over the weekend. The Advocacy Group for Southeast Asians and Persecutors (ASAP) Department has won $6,000 to help Karen refugees in Wisconsin. Farm Stew, whose mission is to improve the health and well-being of poor families and vulnerable people by equipping them with practical life skills, has received $5,000 for Bible ministers in Zambia. . And the Weimar Institute, founded to impart knowledge about God to students, secured her $4,000 to replace 10 windows in her on-campus facility.
ASI (Adventist-laymen's Services & Industries) is a membership organization of Seventh-day Adventists who are committed to participating actively in the Church's worldwide mission to spread the gospel of Christ to the world. This unique and diverse group of members ranges from business owners to private professionals to supporting ministries.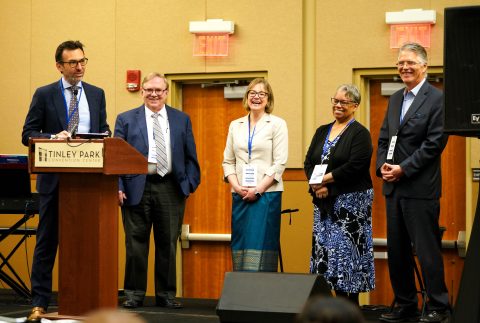 This year has also been a year of leadership transformation. The newly elected officers to serve the 2023-2025 term are:
Gianluca Bacchiocchi – President
Gianluca Bacchiocchi is an international finance attorney and partner in the New York-based law firm of Latham & Watkins. Bacchiocchi is passionate about fitness and wellness. Her hobbies in her Bacchiocchi include participating in marathons and triathlons. This is a key element that allows him to uniquely connect with and even influence other professionals and share his faith. Additionally, Bacchiocchi believes health messages are the best way to reach people in the workplace.
Lisa Isencey – Vice President
Lisa Isencey is a Commissioned Pastor and has been pastoring and planting churches for many years. Izensee currently serves as Mission Advancing Officer for ASAP Ministries, helping to both support and extend advocacy to hundreds of National Church planters working in persecuted places.
Debbie Young – Vice President of Communications
Debbie Young, an oncology nurse navigator based in Ypsilanti, Michigan, works with patients facing terminal illness and through her media ministry, Quiet Moment Radio, which she and her husband founded, to help people with Jesus. I have found different ways to communicate to others. Young said from 2003 until 2007 she was also the first African-American and female president of ASI International.
Michael Clendening – Vice President of Evangelism
Michael Clendenning is a full-time residential and commercial real estate broker and member of the REMAX International Hall of Fame. He serves as First Elder and Sabbath School Caretaker at the Southwest Church in Orlando Park, Illinois, sharing "the matchless charm of Christ" whenever possible.
Tom Morrissy – Vice President of Finance
Tom Morrissey is a long-time financial adviser and railroad train attendant. Additionally, Morrissey is an elder at Downers Grove Church in Illinois and a Sabbath School teacher. Morrissey shared Christ with the marketplace by placing a painting of Nathan Green's "Business Partner" in a prominent place in his office and offering prayers to his customers when he felt the need.
Trudi Starlin – Vice President Membership
Trudi Starlin works with four generations of family-owned electrical contractors and is a refugee advocate. Trudy is a member of the NAD ARIM (Ministry of Adventist Refugees and Immigration) where he serves on the ASAP Board and Advisory Board and works with refugees from Burma.
Carmelo Mercado – Executive Director
Carmelo Mercado is Vice President of the Seventh-day Adventist Lakes Federation Council. Mercado is passionate about multicultural service and evangelism. His position allows him to assist numerous ministries and churches, giving them access to resources to call on Jesus to more souls.
"It's been a great year and I hope people don't think the same way about their health when they leave here. Our goal is to be as engaging as our message. That's why this year's theme," said Gianluca Bacchiocchi, newly elected president of the ASI Lakes Union. He thanked guest speaker Dr. Neal Nedley for sharing his health message.
Additionally, ASI Lake Union took a unique approach to attracting young families by setting aside designated spaces for children's programs. The corner was organized by the newly elected Vice-President Pastor Lisa Isencey, who shared that she had successfully met with 16 children who had participated in the program. In addition, the children participated in the Saturday evening program, where they performed a puppet show talking about their participation in missions. When asked what she hopes for the future of ASI Lake Union, Isensee said, "I want to see more young families in ASI Lake Union. I want to meet a new generation of young people who love and serve the Lord. ' he replied enthusiastically.
Click https://flic.kr/s/aHBqjABQ2M for more photos
---
Felicia Tonga is Assistant Communications Director at Lake Union.
Source link